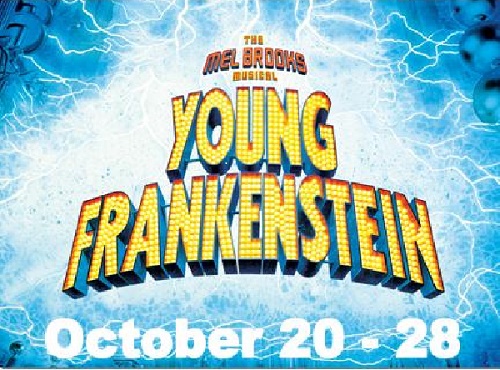 YOUNG FRANKENSTEIN
The New Mel Brooks Musical
October 20 - 28, 2017
From the creators of the Broadway sensation, The Producers, Young Frankenstein is the comedy genius of Mel Brooks and is adapted from his legendarily funny film into a brilliant stage creation!
Grandson of the infamous Victor Frankenstein, Frederick inherits his family's Transylvania estate. Helped by hunchbacked sidekick, Igor, and leggy lab assistant, Inga, Frederick slips into his mad scientist shoes, bringing to life a creature rivaling his grandfather's. The monster escapes and hilarity abounds. With such tunes as "The Transylvania Mania," "He Vas My Boyfriend" and "Puttin' on the Ritz," Young Frankenstein is scientifically proven, monstrously good entertainment! Rated PG-13
Brought to you by Aspire Community Theatre
Venue: Salvation Army Kroc Center Theatre, 1765 W. Golf Course Rd, Coeur d'Alene, ID 83814
Ticket Prices: $13 - $17 Student / Military $13.00, Groups 10+ $13.00, Standard $15.00, Golden Circle $17.00

FARMERS' MARKETS
Local Farmers and Artisians
Wednesday Market Hours
Downtown Coeur d'Alene
4 pm to 7 pm
May through October
Fifth St. & Sherman Ave.
Coeur d'Alene, Idaho
Saturday Market Hours
9 am to 1:30 pm
May through October
SE Corner Hwy 95 & Prairie Ave.
Hayden, Idaho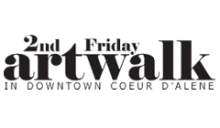 Art Walk
Held every 2nd Friday of the month through December
Family-Friendly Free Event! - Held every 2nd Friday of the month at 5:00-8:00pm, April through December. Stroll through beautiful Downtown Coeur d'Alene and enjoy local and nationally acclaimed artists. Visit supporting galleries, shops, restaurants and businesses with your friends and family. Currently in our 13th year!
July 14 / Featured Gallery: The Art Spirit Gallery
October 13 / Featured Gallery: Ciscos Gallery
Art from the Heart Month
November 10 / Featured Gallery: Studio 107
December 8 / Featured Gallery: Emerge

Replenishing Massage Clinic is 1 mile North of
downtown Coeur d'Alene. Be sure to call to
Schedule an Appointment while enjoying our local events--
208-964-2182.